Belle Lingerie COUPON CODES
PEOPLE WHO GOT BELLE LINGERIE COUPONS ALSO GOT
About Belle Lingerie
Belle Lingerie, as the very name suggests, is your go-to site for all kinds of exquisite lingerie items. You can get the most attractive designs of lingerie here and can also expect to enjoy great savings as you shop online. It is the perfect shop to visit before you go on an exotic holiday. So, whether you need lingerie, swimwear, shape wear or seductive wear, you can trust Belle Lingerie to give you everything you need.
With the latest Belle Lingerie coupons from coupon trading sites like Don'tPayAll, you will be amazed at the savings you can make. You may not be able to find the right cup size on other websites selling lingerie and swimwear, but here, you can find swimwear, from AA cups to K cups. Leading designer brands like Fantasie Lingerie, Curvy Kate Lingerie and Freya Lingerie keep their products on this site.
This store can be completely trusted for offering only high-end products because they have been in this industry for more than a decade and half. They have won many international awards and leading lingerie retailer competitions. They have made a lot of effort to make sure that the products remain cost-friendly for their buyers. When you want the best bargains on your purchase, you should check out their "Special Offers" category which displays the bestsellers from previous seasons.
Women deserve the best. This is exactly why Belle Lingerie scores above its competitors because it focuses on offering undergarments and swimwear in every size possible to cater to a wide clientele. You do not have to break the bank to look your best too!
How to coupon
Are you ready to buy some items for yourself? Follow these steps to save some money.
Step 1: Visit Belle Lingerie online store on dontpayall.com
Step 2: Finding products you want to purchase at Belle Lingerie

Step 3: Add these items to your basket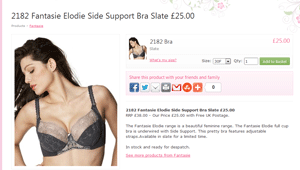 Step 4: Checking out and apply these codes you got on dontpayall.com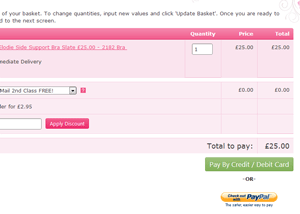 Shipping and return policy
Shipping
Belle Lingerie always aims to ship your order within 1-2 days. You will receive an email confirmation when your order leaves their warehouse.
But there're some notes you need to pay attention to"

Orders placed on Friday after 2pm will not ship until Monday
UK free postage is Royal Mail 2nd class postage.
With UK 1st class post, your order can be shipped within 1-2 working days.
Return
With UK customers, returns are payable by the customer. The postage paid label on the invoice enclosed is not a free returns label.
For the customers outside EU, you need to state the parcel is a return and quote the following CPC code on your return. The CPC code is used to assist customs with the processing of the return parcel.
Tips and tricks
How to choose the right bra?
Choosing a bra is not easy as you think. When finding a bra, you need to pay attention to some features – which will make you uncomfortable if you miss them.
Find your bra size
Put on a comfortable, well – fitting, non – padded bra. Choose the ones make you feel most comfortable. Your nipples should be about halfway between your elbow and shoulder.
Find your band size
Standing in front of a mirror, use something to measure around your ribs right under your breasts. Put the tape tight. Write down this measurement.
Find your bust size.
Measure your breasts at the fullest point, usually at the nipple and write down the result.
Subtract your band size from your bust size
The difference between these two numbers is your key to find your cup size.
Combine the cup size with your band measurement, and you will get your final bra size.
Don't forget that the cup size is not the same for each band size.
Get help form a professional if you need.
These are some notes you should pay attention to when finding the right bra for yourself. Make sure you follow these steps. And remember to visit Belle Lingerie to find your perfect lingerie.